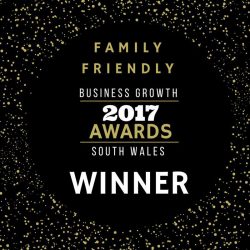 Gwent Wildlife Trust Wins Prestigious South Wales Business Award!
Gwent Wildlife Trust were announced as winners of the South Wales Business Growth "Family Friendly Business" Award 2017 in Cardiff this month.
At the awards ceremony a panel of judges from the regional business community applauded Gwent Wildlife Trust's work in bringing together people and organisations from education, conservation, business and public sectors to deliver a vast range of outdoor learning and wellbeing opportunities and benefits to thousands of South Wales families, either free of charge or at very reasonable costs.
Being close to nature is vital to children's learning and development and the health and well-being of everyone. So we're really happy to have won the family-friendly business award this year. We also owe huge thank you to all the volunteers who help us deliver all this – Debbie Stenner, Marketing and Membership Manager
11 of our 23 staff are employed part-time and requests for flexible working are always accommodated if possible. We recognise the demands of modern families and that if employees are happy then we are able to achieve so much more – Julia James, Trustee and business volunteer
For more about Gwent Wildlife Trust, visit: www.gwentwildlife.org