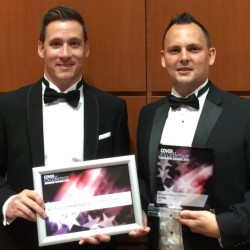 Vita Wins Prestigious National Award
Cardiff based Vita has won Small Intermediary of The Year and was Highly Commended for Customer Service at the Cover Excellence Awards.
The prestigious awards for the financial services industry were held in Victoria, London last Thursday.
It's a huge achievement for us to be recognised as being the best in the UK at what we do, and we're very proud of all of our staff and the hard work that they put in to make us who we are – Paul Reed, Co-Director
Vita is run by co-directors Barry Pappin and Paul Reed and provides expert advice and solutions for life assurance, critical illness cover and income protection.