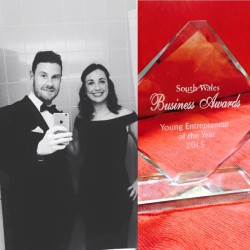 South Wales Young Entrepreneur of The Year Awarded To…
A big CONGRATULATIONS to Liam Mee, Founder and Creative Director of MeeCreative who wins Young Entrepreneur Award 2015 at the South Wales Business Awards held on Friday.
Thank you for your kind words and to the people who have supported me over the past 4 years – Liam posted following the presentation of the award.
MeeCreative is a leading agency that collaborates with companies of all shapes and sizes, from SMEs to global blue-chips, transforming great ideas into innovative products and powerful brands.